Angelica wears: F21 gladiator sandals, vintage maxi dress, mums scarf, Sportsgirl blazer, & Zara Bag.
The first picture is of her standing on the Opera house stairs, the second is walking across the harbour bridge & the third is at ciruclar quay.
Today we visited sydney's landmarks - the harbour bridge and the opera house at circular quay arriving by ferry which was nice, we ate at Pancakes on the rocks (sooo yummm) and afterwards went on a little adventure to Pitt St Mall a few days early for Ed Westwicks meet and greet :( however on a brighter note we did spot a Maserati today and guess who was in it? TIMMY CAHILL.. although not on the same wow factor as the amazing Ed Westwick, during this time of the World Cup seeing Tim Cahill off the field was pretty exciting especially for my soccer crazed brothers. Anyways while exploring Pitt St Mall I found the most amazing store -
'The Corner Shop'
They stock Alexander Wang,
Vivienne Westwood
, Josh Goot, Karla Spectic and many more amazing designers... also the design of the store is like a fantasy land.. it is any fashionista's dream world... ahhhh a girl can dream!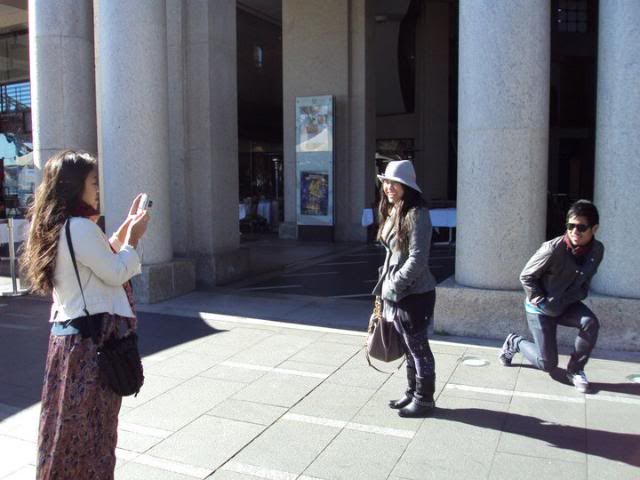 I wear: Glassons hat, blackmilk leggings, Zara Boots, Gino Ferrario Bag, Zara t-shirt, striped blazer from ...idk? and my mothers scarf.
Between the stores in the Strand at Pitt St stood these amazing displays of young designers from TAFE NSW, they're work is incredible! If you get a chance you really should check it out.. but in the mean time have a peak below...