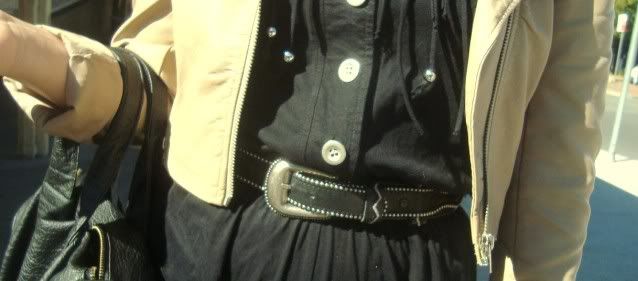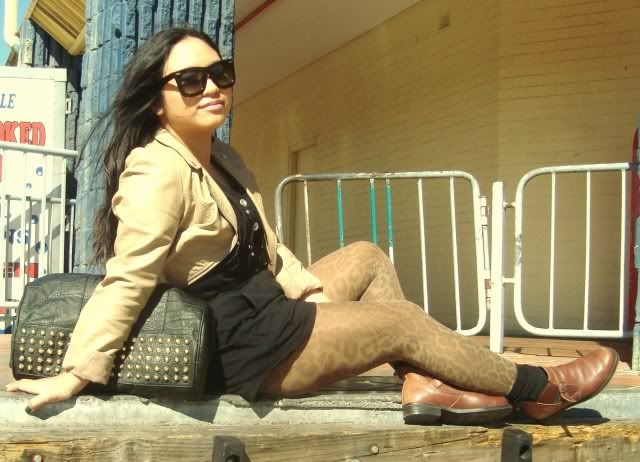 I wore: Temt leather jacket, Evil Twin Romper, Vintage studded belt, Sportsgirl leopard print tights, Alexander Wang inspired bag, ebay sunnies and Sure Fit leather boots.

Yesterday, I was walking around my room looking for what to wear and I literally stumbled over my country road bag & all my unpacked clothes from the weekend. I looked down and saw my leopard tights that I bought ages ago from Sportsgirl and haven't worn in such a long time. I was a bit hesitant to wear them to uni because its soo cold at my uni but the sun was shining through my window and it looked really warm so I thought.. 'what the heck! lets do it!' I pulled out my Evil Twin Romper I bought from this boutique in Cairns earlier this year, paired in with some black socks, boots & beige jacket.. VIOLA! this slightly daring outfit was born.
p.s thanks to who ever washed my tights, they are now slightly green... hmm adds more uniqueness to them, don't you think?

Hope you all have had an amazing start to your week!
I'm off to finish/start my 16 still photo essay for my film studies course. Wish me Goodluck!

Lots of love, B.
update: something very exciting just got delivered to my door. ahhh will post it soon!