It was only yesterday night when I discovered the ALDO RISE range whilst doing my routine Asos browse which usually is quite a monotonous task... click, click, click, next page, save for later, add to basket ... remove from basket. This time however, I found the pot of gold at the end of the rainbow in the form of Preen x Aldo Rise heeled sandals with their signature pixelated, paisley print from their Spring Summer range this year. I wasn't sure if I was delirious from all the clicking or if the screen really did say only 135 pounds ($205 dollars) for a piece of the Preen x Aldo Rise prize - which I have named them. Kind of catchy huh? Instead of rushing to seal the deal on these beauties, I was calm and waited until today to give Aldo a call although that's when the patience ended. After hearing "There's only two 38's left" I was like a woman possessed. Off went speed dial to my brother who works in the city and boom they were mine. Really have to thank my brother for that one! You might think I'm crazy but up against the craziest of cray, DIRECTIONERS aka One Direction fans in Sydney at the moment I am without a doubt, absolutely 100% normal. (No offence little sis! Zayn is a babe!)
On a side note, It's sad knowing that two of Australia's most exciting designers Josh Goot and Dion Lee have pulled out of MFWA officially this year and with rumours of Romance was Born pulling out too, my only consolation prize for hearing this disappointing news are that these pretty preens can accompany me to the other shows to fill the void only slightly.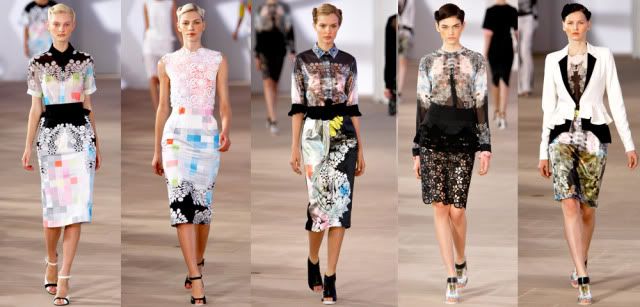 Images via Style.com
Besides purchasing things, I have been a fairly busy bee but I'll save that for the next post.